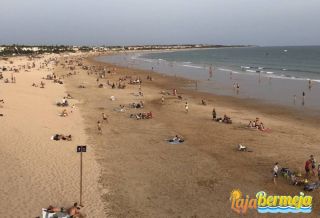 A beautiful spot attracts
tourists
, but it wouldn't be so attractive if you don't complement a dream place with an endless number of
activities to keep you entertained during your holidays
. That is why it is essential for us to make a list of things to do if you choose Chiclana de la Frontera as your summer destination.
Let us give you an overview of the
different
activities and plans that you can do in
la barrosa beach.
In this list you will be able to find
fun plans for children, adults and the whole family in Chiclana de la Frontera
.
And if all this convinces you but you still haven't booked your
holiday accommodation in Chiclana de la Frontera
, don't forget that in the
Urbanización Laja Bermeja
you will find very well equipped flats in a
location
that is hard to beat. Take a look at our
photos and videos
and book your stay in
Laja Bermeja
now!
In an environment like the one we are going to find ourselves in, it would be difficult not to find some kind of aquatic activity to entertain us during our
holidays in Chiclana de la Frontera. If you are looking for an outdoor plan where you can enjoy the immensity of the Atlantic Ocean, we recommend you some of these activities:


Private sailing trip


Boat trip


Sunset boat trip to watch the sunset


These three options are in high demand and can be booked in advance of your stay, with the added convenience of flexible cancellation policies. The first two activities are available in the morning and afternoon, but the last one is only at sunset.

But if you prefer something more sporty, another of the most popular options in the area are the kayak trips around Sancti Petri. This is how you can book:



However, you should know that the kayak rental is limited to people over 7 years old and the price will depend on how long we want to use the kayak and whether it will be an individual or a two-seater, and the guided walks through the Bay of Cadiz Natural Park have a duration of 2 hours and will not be available for children under 11 years old.


Sports Courses

There is also a wide range of sports courses in Chiclana de la Frontera, where you can find all kinds of schools offering beginners' courses, ideal for those first contacts. Without a doubt, there is no shortage of water sports such as surfing, kitesurfing, windsurfing, diving, sailing or kayaking (as we have seen above).

However, they will not be the only ones, as the area also has numerous golf courses where we can take one of these courses, either for ourselves or for the youngest members of the family. Complementing this offer we will also find tennis or horse riding courses, among many others.


Nature Tourism

Natural tourism could include many other activities that we have already mentioned, such as boat trips in the Bay of Cadiz Natural Park or guided kayak routes. Horse riding on the beaches very close to the town, such as those of El Palmar or Zahora, could also be included here.

However, within the natural tourism that you can find in Chiclana de la Frontera you can also choose to take a nice walk through the salt marshes, where you can opt for guided tours for the whole family in which they will learn how salt is obtained and all the secrets of the ecosystem of the marshes, as well as the local fauna.

The marshland areas, such as the Marismas de Sancti Petri, are a natural spot that you should not miss. They belong to the Natural Park of the Bay of Cádiz and are so closely linked to the history of the city.


Summer Cinema for all

One of the actions that the town council of Chiclana has been carrying out for some years now is the summer cinema. This originally had only one location, and that was in the beach area. Currently, the sessions have been divided between those held in the coastal area, in front of the Red Cross post, and those shown in the town centre.

This is a fantastic plan for the whole family who can take their seats in front of the screen and enjoy some of the titles that will be screened during this summer 2022 such as "Bloodshot", "A todo tren", "Los Croods" or "El Jinete del Dragón".


Excursions

We cannot forget that Chiclana de la Frontera is in a very good position when it comes to getting to know other towns and cities in the surrounding area. For this purpose, there are also closed excursions that can be booked before arriving or once you are there.

Some of the most typical are the guided visits to the wineries of Jerez de la Frontera, the excursion to Tangier, a tour of Tarifa, Zahara de los Atunes and Baelo Claudia, the excursion to the Anglo-Saxon stronghold of Gibraltar or a route through the white villages of the Sierra de Cádiz.


Enjoying the sea

And we can't forget why we've come here, which is to enjoy a bit of this little paradise where we're going to spend the summer. And there is no doubt that you are in a privileged spot, with more than 8 kilometres of fine golden sandy beaches that are bathed by the spectacular waters of the Atlantic Ocean.

On the beach you can also find an endless number of activities, most of them completely free of charge. The little ones will have a great time enjoying the sea, the waves and the castles in the sand. In this respect, take note because there is usually a sand castle and sand figure competition, so you should be prepared for anything.

Are you convinced by any of these plans? If the answer is yes, but you still haven't booked your holiday. What are you waiting for? Go to our homepage and check the availability of our holiday flat in Urbanización Laja Bermeja, located on the seafront of la barrosa beach with sea views.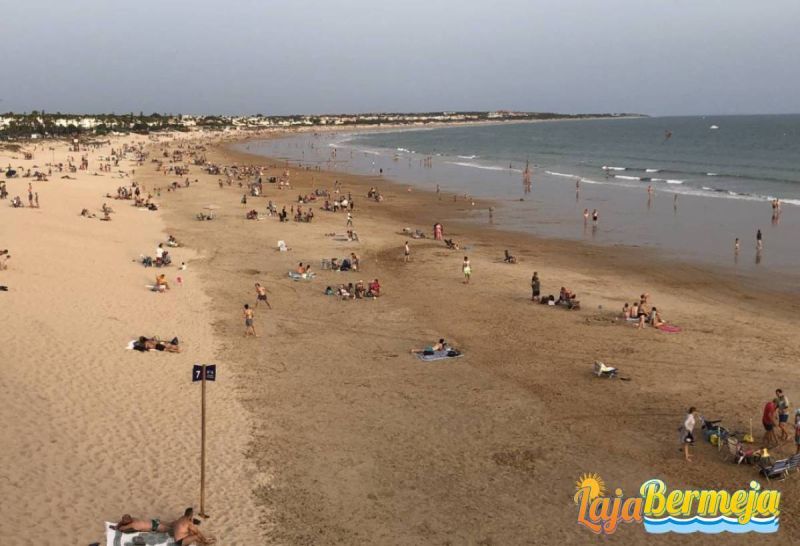 05 de Agosto 22